Maserati LED Matrix Headlights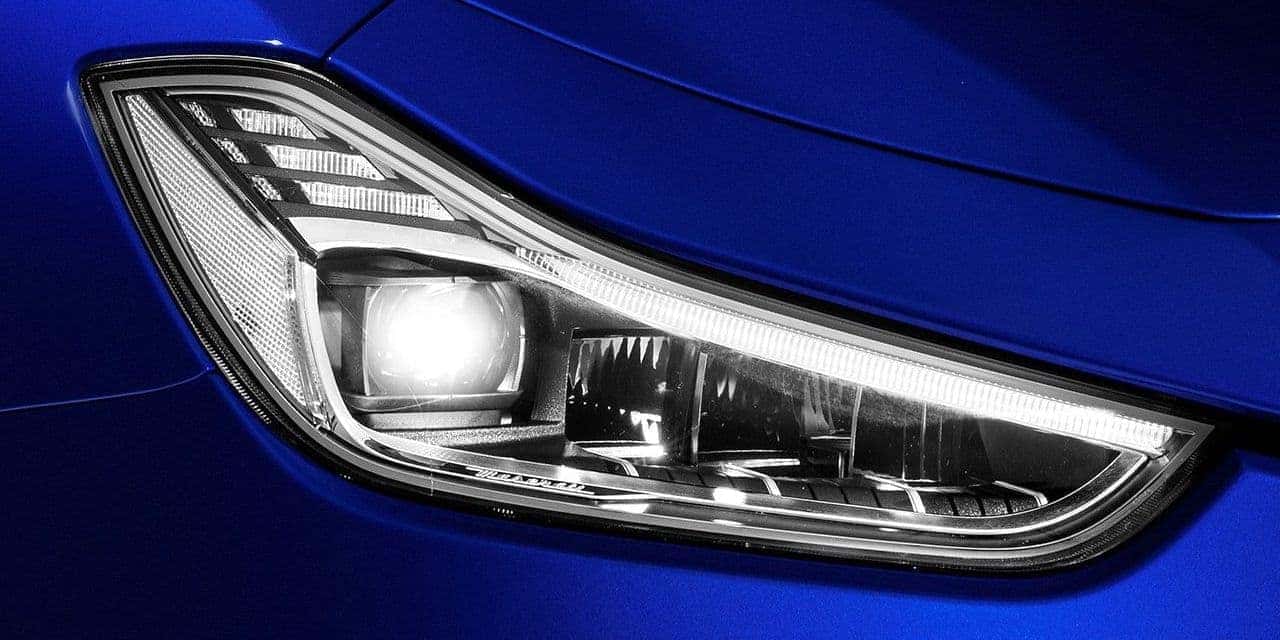 What Are Maserati Led Adaptive Matrix Headlights?
Maserati LED Adaptive Matrix Headlights are the latest breakthrough in headlight design. Built with high-powered LED lights, these headlights automatically adjust based on your driving environment, whether it be high speed, rainy conditions, or both. Now not only are these new LED lights smart, they are efficient, too. Compared to traditional halogen bulbs, the LED headlights offers to 66% more energy savings, especially at low speeds.
Traditional halogen bulb headlights, the kind found on most other new cars, are inefficient, run hot, and provide only a fraction of the light when compared to LED bulbs. With all 15 LED bulbs operating, the Maserati LED Adaptive Matrix Headlights offer an impressive 200% increased field of vision over a comparable halogen setup. Perhaps best of all, in addition to a higher light output, the LED bulbs can be digitally controlled to customize their strength and beam direction. Listed below are a few of the incredible things that these cutting-edge headlights can do.
Maserati Led Adaptive Matrix Headlight Features:
Adaptive High Beam
The Adaptive High Beam feature makes nighttime driving both easier and safer. The system can detect oncoming traffic and will automatically dim the lights as needed. By doing this the Adaptive High Beams maintain high visibility, without blinding drivers in the opposite lane.
Static Bending Lights
The Static Bending feature will aim the headlight beam left or right when making turns. Perfect for driving in the city at night, or on poorly-light backroads. With this LED technology you can see hazards and obstacles that much sooner!
Town Beam
The Town Beam feature activates when driving at low speeds, typically under 35 MPH. This will provide less glare to pedestrians and other cars, plus reduce power consumption, all while maintaining a bright and clear beam.
Town Beam
The Country Beam feature activates at medium speeds between 35 and 60 MPH. Beam distance is increased to account for higher speed, excellent for backroads or regional highways.
Motorway Beam
The Motorway Beam feature is designed for high-speed situations, activating over 65 MPH. This offers the maximum low-beam visibility, to account for increased speed. Will be best suited for freeway driving.
Adverse Weather Beam
The Adverse Weather Beam Feature is an incredible part of the LED Adaptive Matrix Headlight package. By adjusting the beams, glare and rain reflections can be drastically reduced, resulting in a much safer driving experience over halogen bulbs. This feature will activate in rainy or snowy conditions.
New Maserati Vehicles With Led Adaptive Matrix Headlights
Maserati LED Adaptive Matrix Headlights are one of the biggest leaps in headlight technology, especially when it comes to safety. For this year, Maserati LED Adaptive Matrix Headlights are available with select Levante SUVs, as well as select Ghibli models. For more information about Maserati LED Adaptive Matrix Headlights, or one of the many other Maserati features available on new models, call us at 408-549-1726 to speak with one of our friendly and knowledgeable teammates. If you would like to experience LED Adaptive Matrix Headlights for yourself, check out our inventory of new Maserati cars and SUVs and schedule a test drive today.